Hi Monkeys,
Our illustrious leader or Alpha-Monkey as he likes to be called (…seriously, it is just creepy) has managed to damage himself in a bizarre accident he refuses to discuss when there are children around, so I have grabbed the throne and am penning this week's Newsletter.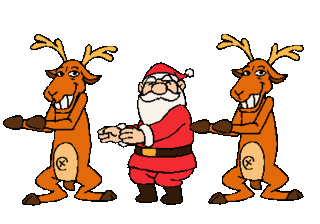 Ever since July, when the Xmas decorations started appearing in my local shopping centre, I've been thinking about what joys this year will bring... hot weather, odd relatives, and that person in the bad wig no-one really understands how he is even related and where he knows to go each year.
I admit to being one of the many people who suffer Xmas day through gritted teeth and eat all the good prawns before the guests arrive. At least I am home when they get there. A few years ago there was a perfect swell and time just got away from us... left my lunch guests milling around the front door for about 30 minutes before we rolled up with salty hair and surfboards. So, I have at least made the effort to turn up in subsequent years.
Anyway, every Xmas we do the family thing – everyone pretends to like each other, we all wear paper hats and feed bad stuff to the dog.
However, Boxing Day is a HUGE event. All our friends come over armed with leftovers, a bottle of good wine and an unholy urge to dance badly and sing Reggae.
Our tradition is to get everyone to create their perfect Boxing Day playlist – then we pull it together and each year we generate the Boxing Day Soundtrack – usually a random, bizarre and completely perfect musical summary of our group, our lives and where we are in the world.
So, BoozeMonkeys – it's time to create the perfect Monkey Playlist – your selection of non-Christmas-Carolly tunes. What makes you sing at the top of your voice? Crack out the air-guitar or shake the booty? What is going to shake the tree on your Boxing Day?
We want you to tell us! And we want to share it with the monkey world!
:: HAPPY BIRTHDAY MONKEY PAPA!
It never takes much to persuade us to stop work and start partying here at Castle BoozeMonkey, but today we have a particularly good reason to celebrate because Marc's dad turns 60 today – Happy Birthday!!
We will open a bottle of something fantastic to toast you with tonight.
:: HAVE YOU CHECKED OUT THE How To Videos YET?
The Big Banana himself is looking for any excuse to get back in front of the camera so let us know what YOU want to see... we are happy to tackle any topic, so tell us what you would like to see next… (and yes, I have already suggested a paper bag)
Do you have a video? Send it to us and we'll help spread the word.
:: MARKETING GROUP

Thanks to everyone who is participating in the Monkey Marketing Mojo Group – great feedback and I appreciate everyone's energy and passion.
Let us know what topic you would like covered next – we can throw a blog together on popular topics, or if you are feeling shy and a little awkward, email just email me: sandie@boozemonkey.com
::ASIAN FUSION WINE EXTRAVAGANZA
I don't know what you've got planned this weekend, but if you're anywhere near Adelaide you should seriously think about the Caught Redhanded Asian Fusion Night at T-Chow on Saturday night.
Phil Rogers, the winemaker at Caught Redhanded, has put together a food and wine-pairing to drool over (full details of the menu and the wines here!) and amongst other things you will be treated to his 2008 Adelaide Hills Sauvignon Blanc (which was recently scored 92pts by James Halliday), his silver-medal-winning 2007 McLaren Vale Shiraz, the new 2008 Shiraz (which hasn't even been bottled yet, but is already creating quite a stir) and one of our favourites, the Non-Vintage Fortified.
Phil will be there too, to talk you through the wines and answer any questions, and it promises to be a night to remember. There are only a few tickets left though, so call Phil now to book your table (0419 252 967) : make sure you don't miss out!
Well, that's all from me. Have a fantastic week and I'll see you on BoozeMonkey!
Cheers!
Sandie